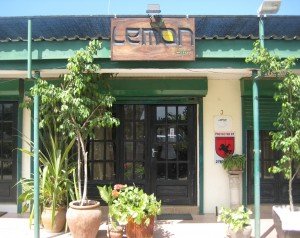 Lemon Spa
Haile Selassie Rd.
(Adjacent to George & Dragon)
Masaki, Dar es Salaam
Tel: +255-(754)-814 531/+255-(752)-220 120
Email:   lemonzpa@yahoo.com
(Click here for Lemon Spa menu.)
In the third post of my "Be My Guide to Your East African City" series, I asked about your favorite local spa. I also mentioned that it dawned on me that I had never been to a spa before, having always received my beauty and body treatments in beauty salons or fitness facilities. Shortly after publishing that post, I was graciously invited by Ramona Kashmiri, the owner of Lemon Spa in Masaki, Dar es Salaam, to visit her spa for the first time and sample some of the treatments offered there.
I had often seen Lemon Spa before because it's located next to George & Dragon, an English-style pub that I like a lot. At the appointed time and date, I easily made my way to Lemon Spa, where upon arrival I was warmly greeted by a friendly and professional receptionist. I was scheduled for a Vanilla-Almond Pedicure and a Singo Scrub, a traditional Zanzibari treatment. After confirming the details of my appointment, the receptionist recommended that I begin with my pedicure.
She led me to the nail treatment area, separated from the rest of the day spa by wrought-iron-and-cloth screens. There, she offered me a seat, introduced me to my esthetician for the day, gave me some reading material, and offered me a drink. Within no time, my feet were soaking in a wooden bucket of warm water, and my pedicure was underway.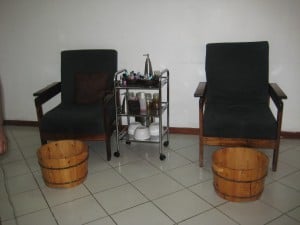 A pedicure is a pedicure is a pedicure (or is it?), but unlike many pedicures I have received at other beauty establishments in Dar es Salaam, where beauticians think nothing of yelling across the room conversing with fellow beauticians and customers, the ambiance at Lemon Spa was one of quiet calm, serenity and pampering. Phones were to be switched off or put on silent, and it was clear that the focus of the spa was its customers having a relaxing and rejuvenating experience.
With my pedicure complete, it was time for my scrub. Although I had given myself body scrubs at home before, I wasn't quite sure what to expect from a professional one. Soon to find out, the esthetician led me to a pink-hued (much to my feminine delight!) room with a pink-kanga covered massage table at its center. She handed me another pink kanga, with the instruction to undress, as she left the room to give me privacy. Knowing the drill, I stepped out of my clothes, lay on the massage table, and covered myself with the kanga as I waited for the body scrub to begin.
A body scrub is a treatment in which a lightly abrasive substance is rubbed on the body to exfoliate and hydrate the skin, leaving it soft and smooth. In the case of the Singo Scrub, the abrasive substance is a blend of Jasmine, Rose, Ylang Ylang, Mpatchori (a sweet-smelling herb that grows in Zanzibar–not patchouli), Geranium, Sweet Basil, Sandalwood, and Rose water—hardly what comes to mind when you think of the word 'abrasive'. For about half an hour, the esthetician rubbed this delicious mixture onto every inch of my body (well…almost

). Although a scrub is not meant to be a massage, it definitely felt a lot like one!

When she was done–and I was feeling completely pampered–she directed me to the shower area where I had a long hot shower to wash the scrub off. My skin was soft and super-hydrated, and I smelled d-e-l-i-c-i-o-u-s (much to the delight of the first person I hugged hello after leaving the spa)! Done with my treatments for the day, I tipped the esthetician, as is the norm after receiving beauty treatments, and went on my merry way—relaxed, rejuvenated, with baby-smooth skin and very cute toe nails.

I've been back to Lemon Spa several times since that first day and have tried other treatments they offer: I've had my eyebrows threaded (and loved the results!), had a massage and a facial (the Calming Green Tea Facial is H-E-A-V-E-N-L-Y!), and had body hair removed through waxing. The one thing that has been consistent across all my visits to Lemon Spa (other than the pleasure and pampering I've received from their treatments) has been the friendly and professional manner in which these treatments were carried out.
If you are in Dar es Salaam or Zanzibar and need beauty or body treatments done (or are simply in the mood for some much-needed pampering and relaxation), then I wholeheartedly recommend that you pay Lemon Spa a visit. Lemon Spa caters both to men and women, and has branches both in Dar es Salaam and Zanzibar. Click here to see a full list of the treatments they offer. In case you are not interested in visiting Lemon Spa for yourself but would love to give someone else the gift of pampering and relaxation, then you'll be pleased to know that Lemon Spa offers gift vouchers too.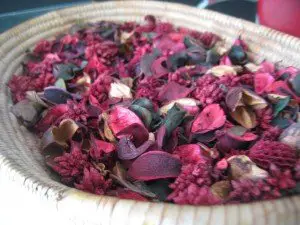 To schedule an appointment, or for more information, call +255-754-814531 (for Lemon Spa in Dar es Salaam) or +255-772-877365/+255-242-232115 (for Lemon Spa in Zanzibar). Once you've experienced the pleasure of Lemon Spa for yourself, come back and leave me a comment telling me all about it.
As always, I look forward to hearing what you have to say!
Until the next time,
Biche
P.S. This post was sponsored by Lemon Spa. If you'd like to let others know about your East African product, service, establishment, or event through ChickAboutTown, send me an email (Biche@Chickabouttown.com) to find out more.
P.P.S. Have you subscribed to ChickAboutTown yet? If not, subscribe by email or by RSS to know as soon as a new post is published. You can also join the conversation on Twitter or on Facebook for daily musings on living &lifestyle in East Africa. Signing up is free and easy!
Share and Enjoy
Related Posts