(This is the second part of a 3-part series. Here are the links to Part I and Part III .)
If you read Part I of this series, then you are already up to speed on Akamba and the services that it offers on the Nairobi-Kampala route. Let's now move on to discuss Scandinavia, the better of the two remaining services that I plan to discuss.
Scandinavia is a Tanzanian bus service that covers the journey between Nairobi and Kampala as part of its longer Dar-es-Salaam-Kampala route. In the past, this caused a major problem for customers wishing to begin their journey in Nairobi because they could never buy a ticket until the bus they wished to travel on had left Dar-es-Salaam on the morning of travel. In other words, only seats that were not occupied by travelers wishing to travel the longer route could be occupied by customers that were starting their journey in Nairobi. Needless to say, this meant that traveling with Scandinavia would leave you guessing until the very day of travel about whether or not you would be traveling in the evening. This wasn't a problem when the journey itself was impromptu but, if it was a journey that required a little planning or that was made for a specific purpose, then traveling with Scandinavia was not a viable option.
Scandinavia finally resolved this issue, a year or two ago, but still never became my preferred means of travel on this route for two reasons. The first is that at 2000 KSh for a one-way-ticket, traveling with Scandinavia is noticeably more expensive than making the same journey with Akamba. This price difference may not make a big difference when traveling one-way, but is noticeable when making a return journey. The second reason that Scandinavia never became my preferred carrier on this route is its time of departure and arrival in each of the terminal cities.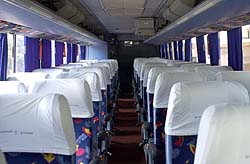 Before the advent of mandatory speed governors in Kenya's public transport system, Scandinavia departed from Nairobi at 9pm and arrived in Kampala very early the following day. Once speed governors were instituted, the departure from Nairobi then occurred close to 11pm while arrival in Kampala shifted to after midday, the following day, sometimes even as late as 3 pm. This meant that on a weekend jaunt to Kampala, suddenly, Saturdays became almost dead days because you would arrive too late on a Saturday to do anything meaningful.
In my last post, I mentioned that Scandinavia rated among the two best companies (in my opinion) to serve this route. Yet, so far, I seem to have told you only negative things about the service it provides. What am I leaving out? The major detail that I have not shared with you yet is that Scandinavia is by far the most comfortable of the three bus services discussed in this series. The buses are relatively new (I first heard of Scandinavia in 2001), and Scandinavia tries to position itself as a luxury service. I have experienced the comfort of Scandinavia first-hand and like to illustrate this by the fact that I once slept through the night on one of my Nairobi-Kampala trips. At the end of a work week, I decided to spend the weekend in Kampala and to get there by traveling on Scandinavia. On this particular journey, I remember falling asleep before the bus left Nairobi (around 11pm) and sleeping straight through the night until 6am when I had to get up to deal with immigration as I crossed the border. I can't even say that I was particularly tired that night. It was just a regular Friday night and the bus I was on was comfortable enough to allow me to get a full night's rest.
I haven't used Scandinavia to travel between Nairobi and Kampala in the past year, so I hope that the information that I am giving you is still accurate. Whatever the case, I doubt very much has changed.
I'd like to point out one more thing about traveling with Scandinavia. Unlike Akamba which has day buses as well as night buses, Scandinavia serves this route only at night. Buses to Kampala leave Nairobi around 11pm and get to Kampala in the afternoon of the following day. I won't lie - making this journey on Scandinavia, no matter how comfortable the buses, feels a little interminable. Still, if comfort is what is most important to you, this is the service for you.
For more information, you can contact Scandinavia Express Services in Nairobi on the following number +254(722)744320, or in Kampala on +256(312)260409. As always, please feel free to direct any comments or questions to me using the comment form below.
For now, I wish you a good end to your week. Please join me tomorrow for the third and final installment of this series, where I will tell you a little more about making the journey between Nairobi and Kampala with Regional.
Until tomorrow,
Biche
P.S. To be sure not to miss future posts on ChickAboutTown, sign up to receive posts directly by email or subscribe to ChickAboutTown in a reader.
Share and Enjoy
Related Posts