Cedars
Lenana Road
Tel: +254 (0)20 2710399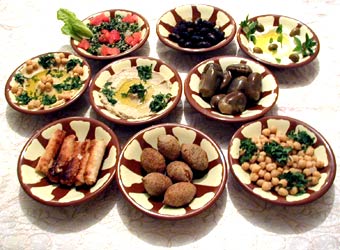 In my last post, I wrote about Al Pasha, a restaurant in the Panari Sky Centre that serves Lebanese food.  While we are on the subject of Lebanese food, why don't I tell you about my favorite Lebanese restaurant in Nairobi?
Before I do, let me tell you a bit about my background with Lebanese food. I grew up in Côte d'Ivoire, where Shawarmas, meat-filled pitta bread sandwiches, are the equivalent of Kenchic in Nairobi. As a university student in Montreal, Canada, dinner often consisted of garlic potatoes, roast potatoes served with a liberal serving of garlic sauce, and tabbouleh , a salad made from parsley and cracked wheat, bought at a Lebanese restaurant not far from my apartment. What can I say? I am a serious fan of Lebanese food. Given this background, I am sure you can imagine the joy I felt when I first found out that Cedars, a restaurant that I saw every day on my way to work, in Nairobi, specialized in Lebanese food.
I first found myself dining at Cedars after dragging my Mom to try it out. As she too had lived in Côte d'Ivoire, it was a cuisine that she was familiar with. That first time we went, along with relatives that had come to visit us from Uganda, we ordered a full mezze. A mezze is an assortment of hors d'oeuvres. We thought that by ordering the mezze we would best be able to sample a full array of Lebanese cuisine. To our surprise, the mezze contained many pastries (of which I am not a great fan) and was more than our conservative guests could handle. In hindsight, the mezze is a good way to go, if like us, you are interested in sampling the full array of Lebanese food and are with a group that is both adventurous and hungry. I believe the mezze can satisfy four hungry people, easily!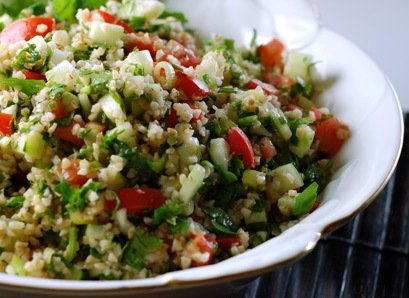 I have since been back to Cedars several times for dinner, and have found that a more enjoyable way to dine at Cedars is to simply take the risk and order the dishes that you most want to eat. (If necessary, ask the advice of the waiter.) For instance, the last time that I went to Cedars, a friend and I ordered: Hummus, a puree made from chick peas; Grape Vine Leaves, stuffed with rice; Tabbouleh, the salad I mentioned earlier; and Chicken Wings, the second best Chicken Wings I have eaten in this city (the first being the Tandoori Chicken Wings served at Haandi). I found that I much more enjoyed my meal this way, having few very good dishes, rather than having many dishes that I was lukewarm about.
Although most people think of Cedars as a restaurant, Cedars also has a bar that many people frequent in and of its own right. The bar area at Cedars is classy, though small. I hear they serve a mean cocktail, though I have never tried any for myself. The one thing that I keep hearing from people who frequent the bar is that the service there is amazing. And so it is! The bartenders at Cedars take a keen interest in their customers. After you've been there a couple of times, they make sure to note what you regularly drink and are sure to offer it to you the next time you drink at Cedars. Nonetheless, because of it's small size and expensive drinks (a Tusker malt costs Ksh. 200 at Cedars), the Cedars bar is hardly my place of choice for casual drinks. Instead, I would rather recommend Cedars as a restaurant. In this capacity, Cedars excels.
If you have never tasted Lebanese food, Cedars is a great place to taste a new cuisine. If you are already familiar with Lebanese food, this is the place you should be eating it, in Nairobi. (To be fair, I must say that I have never been to The Phoenician in Westlands, which is also a Lebanese restaurant.)
Whatever the case, I would like to know what you have to say about Cedars, either as a first timer, or as a frequent visitor.
Please drop me a comment to let me know.
Until the next time,
Biche
P.S. To be sure not to miss future posts on ChickAboutTown, sign up to receive posts directly by email or subscribe to ChickAboutTown in a reader.
Photo Credits: Volvodriver.com.au; diva:flava.style
Share and Enjoy
Related Posts