Al Pasha
2nd Floor, Panari Sky Centre
Mombasa Road
Tel: + 254 (0)20 828135/6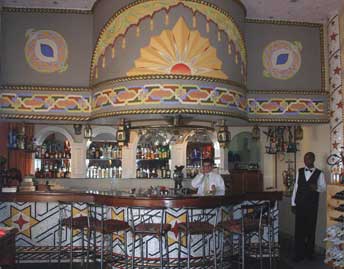 Recently, I found myself at a restaurant/bar that I enjoy tremendously but that I had not been to in a while. Al Pasha, a Middle Eastern style restaurant, located on the second floor of the Panari Sky Centre, is a delightful place to have a meal and drinks, especially at dusk or early in the evening.
The entrance to Al Pasha is located between the two elevators on the second floor of the Panari Sky Centre. The entrance, a small archway that could easily go unnoticed, belies the beauty and charm of the space that it leads to. The narrow entrance leads to a cozy den that houses a bar and a dining area, though the true beauty of Al Pasha lies further still, on the terrace outside.
A small wooden bridge marks the entrance into this world of breezy delight. Like something from The Arabian Nights, this area is decorated with draped fabric, tents, and fire torches, in true Middle Eastern style. A glass railing surrounds the terrace, to protect guests from cold winds, while allowing them to enjoy the view of Nairobi National Park, across, and Mombasa Road, below, even while seated. All along this glass partition are tables with wide wooden Lamu style chairs – chairs that I love because they invite you to curl your feet beneath you and truly get cozy.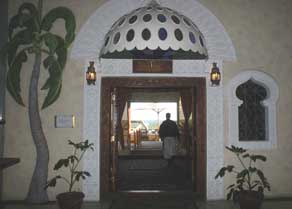 The first time I went to Al Pasha, I went there to have drinks with friends – that's what I normally do when I go to Al Pasha – though they do serve very good food. I love to go to Al Pasha before sunset so that I can watch the sky turn a variety of glorious colors as the sun sets over the plains in the distance. Sitting on the terrace, far above the world below, the sky seems so close and the hustle and bustle of Nairobi so far. Even after sunset, sitting on the Al Pasha terrace is a soothing experience, as the city lights seem as far away and as pretty as twinkling stars.
The bar at Al Pasha is well stocked with all the drinks that you would expect to find at an up-market bar. Beyond the usual drinks, Al Pasha also serves an interesting array of cocktails. The cocktails are not the same as the ones I've seen served in other bars; they are unusual mixes but are good all the same. I have tried a few of these cocktails and was impressed each time. As good as they are, however, the cocktails are not inexpensive, with the average cocktail selling for Ksh. 500 – Ksh. 600.
Al Pasha serves Lebanese food. The one time that I went there for a meal, I shared a mezze for one with a member of my party. The mezze was good and consisted of pastries and dips, such as hummus and baba ghanoush. I thoroughly enjoyed the dips that were served with pitta bread. The third member of our party also enjoyed his meal. He had a Greek salad, as a starter, and some lamb, as a main meal. He particularly raved about the lamb. Despite the food at Al Pasha being very good, I am not sure it justifies the long drive to Panari Sky Centre (depending on where you are coming from, of course). Good Lebanese food can equally be found closer to town at Cedars restaurant on Lenana Road.
Through an informal poll of my acquaintances, it seems to me that few people know of or have been to Al Pasha. I recommend it highly for an interesting and relaxing evening on the town. If its distance from town is a concern to you, I am sure that the beautiful environment and the relaxation it provides will more than make up for it.
A word of caution: Al Pasha is a bit pricey, so please remember to carry more money than you usually would on an outing.
I hope you have a good time there, if you try it out. Please let me know what you think, when you do.
Until the next time,
Biche
P.S. To be sure not to miss future posts on ChickAboutTown, sign up to receive posts directly by email or subscribe to ChickAboutTown in a reader.
Share and Enjoy
Related Posts