To all my Nairobi readers, what is the first thought that crosses your mind when I say Tamasha? Some of you might think of the Swahili word 'tamasha', which means 'festivity' or 'festival', though most of you probably think of the Hurlingham pub with the same name. Do you know that there is also another recreational establishment that goes by the same name in Nairobi? I didn't – until recently – and was very shocked to find out that one existed. I actually didn't believe it until I saw it for myself. I was very pleased with what I found, so would like to share what I found with you today.
First, let me start by saying that, to the best of my knowledge, there is no affiliation between the two Tamashas, that is Tamasha (Hurlingham) and Tamasha Joint (Karen), so please do not go to either expecting the same kind of establishment as its namesake. Tamasha (Hurlingham) is clearly a hip pub, while Tamasha Joint (Karen) is more of a nyama choma place.
I first went to Tamasha Joint on a late Sunday afternoon with a friend with whom I had planned to go out of town on the given Sunday. Somehow, the day had taken a life of its own, so we didn't leave Nairobi until 4pm. Stubbornly, intent to stick to our plan, we decided to drive to Karen rather than go somewhere else closer. We figured Karen was close enough to and yet far enough from Nairobi to give us the out-of-town feeling that we were seeking. So off we drove to Tamasha Joint, which is located on Bogani Road, off Karen South Road.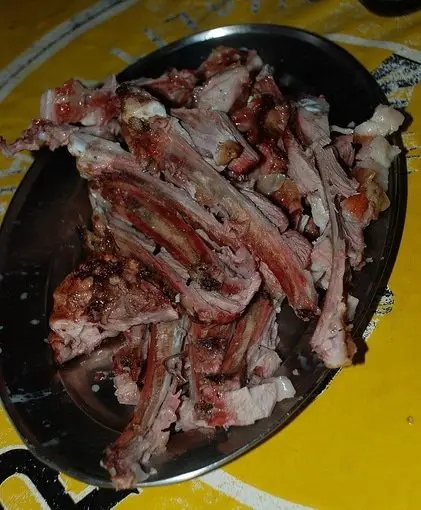 Tamasha Joint is a built-up 'nyama choma' joint. It has several private bandas as well as an indoor space, which, sadly, I must admit I have never stepped in. My favorite place to sit, at Tamasha Joint, is the open space in front of the butchery where a bonfire is lit as evening begins to fall.
The meat at Tamasha Joint is surprisingly good and well worth the drive. I say surprisingly, because having lived in Karen before, I know that Karen, and the upscale neighborhood that it is, is better known for its things foreign than that which is local.
During the times that I have been to Tamasha Joint, I have eaten the 'goat fry', the 'goat choma', and the 'boiled goat' (in order to get soup for friends who had over-indulged the night before

). The goat fry was amazing, but generally, all these dishes were very good. Even the boiled meat, which I rarely eat because I don't enjoy it, was good. It had enough tomatoes and potatoes in it not to be bland. Tamasha Joint serves chicken, goat, and pork (listen up all you Ugandans who live in Nairobi), but no beef, so if you are a beef lover like I am, please be prepared to eat something else. Still, the beef lover in me would like to tell you that the goat at Tamasha Joint leaves nothing to be desired.
Before I get you overly excited, I would like to make it clear that Tamasha Joint is not a place that you need to go and run out to now (when I do say there are places that you need to go to, please know I mean it seriously). It is simply a nice nyama choma joint, or bar, that makes for a good Sunday ride and takes you away from urban Nairobi. Give it a try sometime if it tickles your fancy. When you do, please let me know what you think. I think you will be pleased with what you find.
Biche
P.S. To be sure not to miss future posts on ChickAboutTown, sign up to receive posts directly by email or subscribe to ChickAboutTown in a reader.
Photo Credit: Rosemarydukelow; DoctorWho
Share and Enjoy
Related Posts